Hello, Everyone!
Last week was busy. I was preparing for my first craft fair of the season, which was yesterday. DD (5 year old) was home on spring break as well. It was a lovely, busy week.
Last Thursday was opening day for Brewer's baseball! I watched some of the game on TV and was super excited! In honor of opening day I made German Potato Salad and Brats for dinner, brownie sundaes for dessert. Our Milwaukee Brewer's won! Thursday was a great day! Here is a picture of me being happy in my Brewer's shirt, trying to finish up a pink Sock Bunny: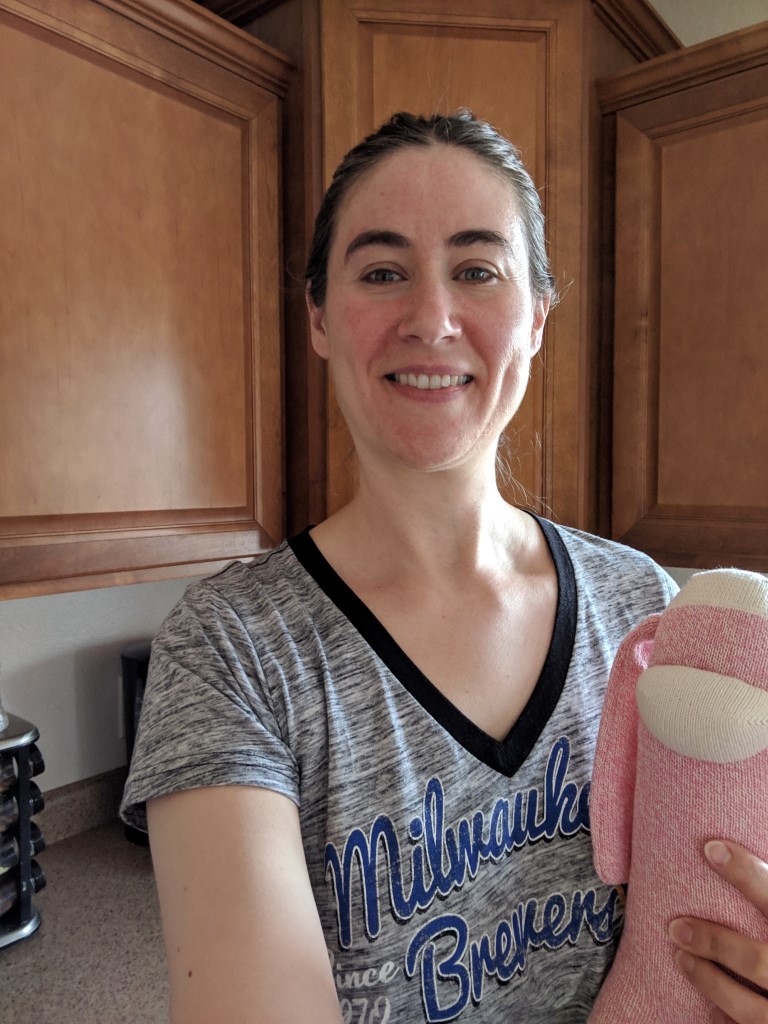 The craft fair on Saturday (yesterday) was so much fun! I want to say "Thank You" to every customer who stopped by and looked, squeezed a Socktopus or Sock Monkey leg, gave a sweet compliment, or purchased and item: Thank You So MUCH!! You were a great group of people!
Thank You to my sisters that came with me, helped out, and Sandy who sold her beautiful cards for the first time.
And Thank You to Jasmine, the amazing artist selling her gorgeous paintings, coasters, switch plates, etc.  We had so much fun talking and laughing, the day flew by!
And, here we are at the end of March. A quarter of this year is already behind us. Spring is coming, things are changing, and I have more planning to do. Are you ready for April? I am not. I am off to get my ducks in a row!
Have a fantastic Sunday!
Missie S.