I am not very upset that Hostess has gone out of business.  It has been years since I have purchased a Twinkie, HoHo, Fruit Pie, or Zinger.  I really like to bake our snacks and treats.  It is healthier, cheaper, and I always learn new things when I work in my kitchen.
I have been collecting recipes for years.  I have a cupboard filled with cookbooks and notebooks shoved with clipped out recipes from newspapers and magazines.  I also have a good number of recipes inherited from my Mom and Grandma.  I have probably made 25% of the recipes in my possession, but I enjoy sorting through them once or twice a year and discovering something that I could make in the next menu lineup.  I also love the mishmash of color and texture of the pieces of paper I have collected.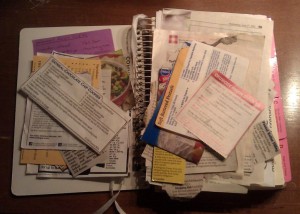 One of the best cookie-bar recipes I have been using is the Oatmeal-Chocolate Chip Cookies recipe from the Gold Medal unbleached flour package.   There's a good amount of fiber in these cookies, they are soft, and they taste great.  I have been making them into bars.  We freeze half of the bars immediately after they cool.  We enjoy the other half of the bars for dessert and in lunches for three days.  When they thaw out later, they are perfect!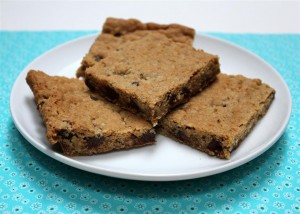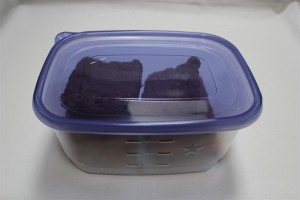 Here is the recipe from General Mills:
Oatmeal-Chocolate Chip Cookies
©2010 General Mills
Makes 3 ½ dozen cookies
1 ½ cups packed brown sugar
1 cup butter or margarine, softened
1 tsp vanilla
1 egg
2 cups quick-cooking oats
1 ½ cups Gold Medal unbleached flour
1 tsp baking soda
¼ tsp salt
1 cup semisweet chocolate chips
1 cup chopped nuts, if desired
*****************************************************************************************
Heat oven to 350 degrees F.  In large bowl, beat brown sugar, butter, vanilla and egg with electric mixer on medium speed until blended, or hand mix with wooden spoon.  Add oats, flour, baking soda, and salt; mix well.  Stir in chocolate chips and nuts.
On ungreased cookie sheets, drop dough by rounded spoonful 2 inches apart.
Bake 9-11 minutes or until golden.  Cool for one minute on cookie sheets then place on cooling racks.
These also make GREAT bars and are even faster to make!
Instead of dropping into cookies, spread into a jelly roll pan or cookie sheet and bake 15-18 minutes or until golden.
To print this recipe from a .pdf document, click here: Oatmeal chocolate chip cookies Recipe
Enjoy your cookies/bars!
~Missie 😀