Every year in June I buy a wee little garden mum plant from Stein's in West Bend. They always have a coupon special for $1.99 for a little 4-5 inch pot. I plant the mum and we watch it grow all summer long. As Fall approaches, we get excited. The bigger the mum gets, the closer we are to Fall and the "bers"! I have a strange garden mum obsession!
Our mum got nice and big this year. Here she is at her peak, four days ago!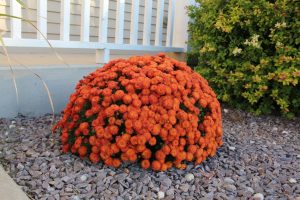 Happy Saturday, All!
Missie S.