I love making new things.  Being creative and expressing yourself through the things you make is a joy, when you have made something that turned out the way you wanted it to, or better.  The mistakes are disappointing, but make you a better artist.
I think a lot people feel the same way, but it is hard to get into your craft when you are going through a busy time in your life or working full-time every day.  You may daydream at work how you would love to do more quilting, card making, or painting.  But when you have a few spare minutes or hours you just don't want to pull out all the materials to have to put them away again.  Or, maybe you just don't feel like it at the end of the day.
That has always been me.  I would love to walk through craft stores and window shop the materials, but never buy anything.  I would love the idea of crafting and sewing, but didn't have the time for the actual task.  Or, I would buy a few small things like embroidery floss and never do anything with them.  I got back into sewing a few years ago because I wanted to make my daughter some doll clothes for Christmas.  I slowly made other things: a baby blanket and a tote bag from an old pair of pants.  When I started making things, especially useful things, I wanted to do more.  I would daydream at work about creating things for a living and I did research on how other people do it.  That is how giggleFritz and Co. was born!
I am now about 8 weeks away from delivering our little girl.  It is hard to make anything new for our family or selling.  However, I am still going to try to create something new each day, even if is only a doodle or drawing.  My goal is to create SOMETHING new every day.  I will remind myself, it doesn't need to be an elaborate craft.  I don't have to pull out a big pile of materials, or even take hours and hours to make something.  I may even color a picture from the internet! I will post a picture to show you what I make.
Today's Art
Title: Lady Bug Stroll with Daisy
Artist: Missie Schachtschneider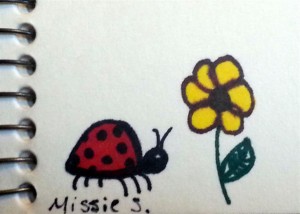 Simple, yet, made.  Not stuck in my head meekly wanting to come out.
Does anyone else do this?  Do you have an art journal that you work in each day?  How does it make you feel to gather an archive of your projects and art?  Do you feel proud of how you have grown as an artist when you look back?  If you haven't already done this, would you like to start an art journal with me?  You could work in your journal each day and check out what is ending up in mine here on my blog.  Think about it.  It could be so much fun! 🙂