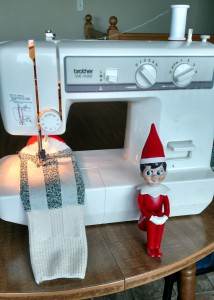 Last night I was dead tired.  After a nice hot cup of cocoa, I fell asleep reading a book in our recliner. I woke up some time after 10pm and made my way to bed.  It's not my ideal way to spend the evening, but I feel great this morning!  I am working on Sock Monkeys today, and my buddy Timmy is helping me out.  He is very supportive and encouraging with his sweet Christmas smile!
I just picked up new pairs of Red Heel Socks in different colors.  I have pink, yellow, green, light blue, and of course, traditional brown.  Now it is time to turn socks into friends! They will be in the giggleFritz Shop soon.
I am waiting on admittance to the St. Ann's Holiday Gift Fair in Stoughton, WI Nov 12-13.  I will post an announcement if/when I am accepted. This is such an exciting time of year!
Have a beautiful Wednesday!
Missie S.