Hello All! February is almost over and I am checking in for a quick update.
February has never been a very exciting month to me. It's usually a month you trudge through, waiting impatiently for spring to arrive. There's Valentine's Day, but, meh. This is a good month for planning and looking ahead at what needs to be done. However, I am having a hard time planning. I can barely keep up with today. Instead of planning ahead in the planner, I am looking back and recording things that happened, like in a journal. I need to change that. I need to lay down a solid plan. I need to say "no" to other people's plans.
Earlier in the month I had a custom index card holder request. I didn't have any fabric patterns that fit the interest of my customer, so I took a trip to the fabric store! 😀 Kid in a candy shop, I had so much fun! I picked up some new fabric and replenished a popular pattern I am low on. I need/want to go back soon, so I better get crackin'! I can't buy fabric I don't have, with money I don't have.
For Valentine's Day, DD and I usually make a heart-shaped cake together. This year we did something different and made white chocolate covered strawberries. They were pretty easy to make and DELICIOUS!! All you do is melt some almond bark with a little coconut oil, stick a toothpick in a strawberry, and dip the strawberry in the chocolate. We added a few festive sprinkles and stuck the toothpick bottom in a cereal box so the chocolate could dry without a mess. We will make these again next year and we will make them prettier!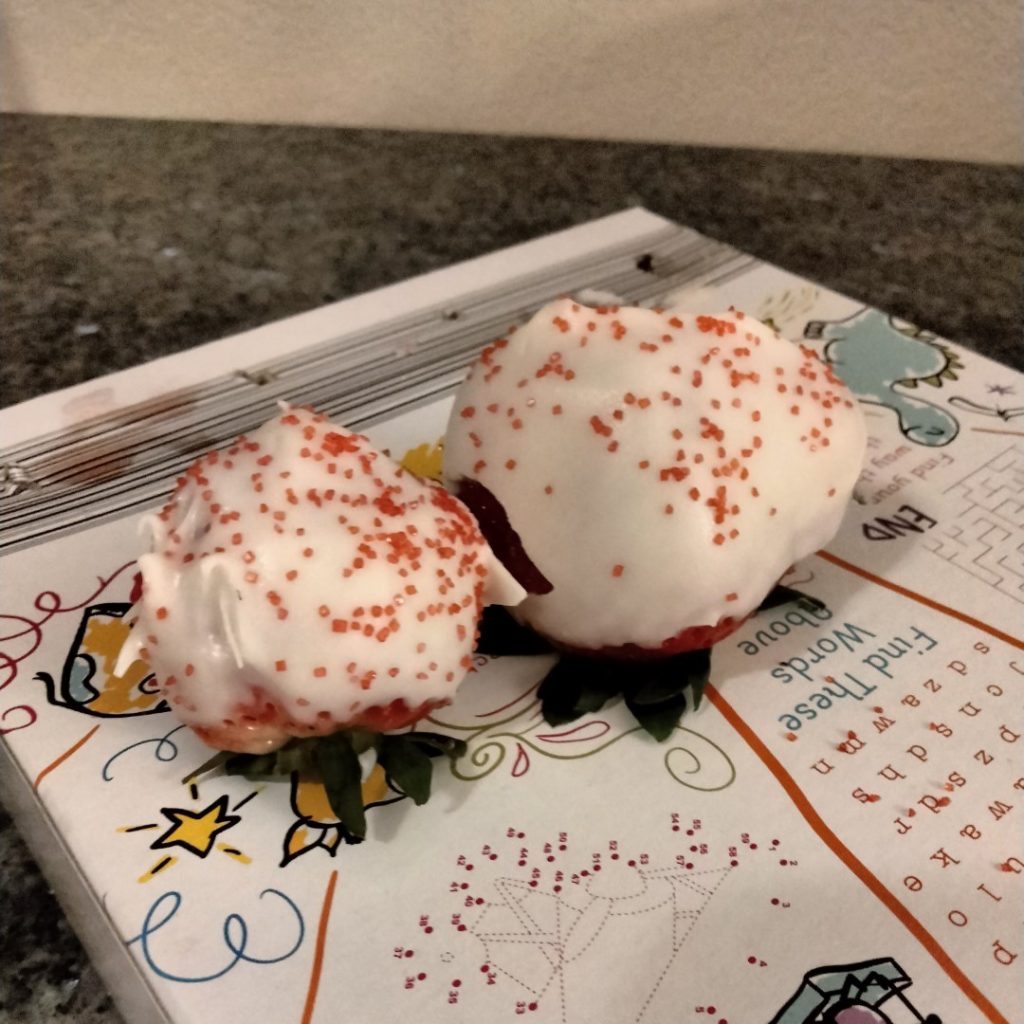 The rest of my month has been lots of volunteering at DD's school and running. I ran a 5K last Saturday, the first winter run I have ever done (Flannel 5k/10k). We ran with some packed snow and ice on the ground, but still had a good running time. Temperature about 30F.
And now, I am here, happy inside my cozy office as a blizzard rages outside. School and Ash Wednesday Church Services were all called off today. Oh, February!
I am off to do wonderful giggleFritz things! Thank you for stopping by and checking in. Have a fantastic Wednesday! 😀
Missie S.