Hello Everyone!
How is your Memorial Day weekend going so far?  My family and I are enjoying this beautiful stretch of weather we have been having.  Some rain and thunderstorms have made it all a little more exciting, but right now it is just GORGEOUS!
It is great to have the sounds, smells, and sights of summer back again.  Yesterday (Saturday), we went to my sister and brother-in-law's cookout.  They live near a lake and while we were outside we could hear the hum of the motor boats, smell the freshly mowed grass, burgers were sizzling on the grill, and the surrounding landscape was vibrant with new foliage.  It's been a great start to the summer, so far.
We didn't show up empty-handed to the cookout.  I made two dishes: Deluxe Macaroni Salad and Dirt Cake.  They were absolutely delicious and we even had some leftover for today. Now I don't have to fuss over dinner! Below are the recipes.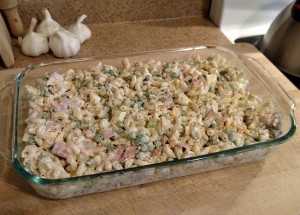 Deluxe Macaroni Salad
8 oz. macaroni, boiled and drained
½ lb. ham, diced
1 cup cheddar cheese, shredded
10 oz. frozen peas
4 hard-boiled eggs, diced
1 cup celery, diced
1/3 cup radishes, sliced
¼ cup green onion, chopped very fine
2/3 cup sour cream
1/3 cup mayo
1/3 cup pickle relish
1 ½ tsp salt
¼ tsp pepper
Combine all ingredients in a large bowl and chill.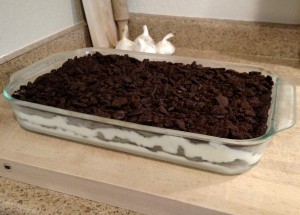 Dirt Cake
32 oz. Oreo Cookies (1 pkg. + 1 row)
8 oz. cream cheese
1 cup powdered sugar
½ cup butter (1 stick)
2 small pkg. instant vanilla pudding (3.4 oz.)
3 ½ cups milk
12 oz. whipped topping
Gummy worms, clean flower pot, etc. for decoration (optional)
In a blender, grind Oreo cookies and set aside.
In a medium bowl, cream the cream cheese, powdered sugar, and butter. Set aside.
In a large mixing bowl, mix vanilla pudding and milk with a wisk. Fold in the whipped topping.  Fold in the cream cheese mixture.
In a flower pot or other large container, place some of the whipped topping mixture on the bottom. Add some of the cookies and continue alternating cream mixture and cookies in layers.
Refrigerate for 24 hours and garnish with gummy worms or other decorations.
I served each dish in 13 in x 9 in Pyrex pans because I transported them in a carrying case with lids and ice packs.  The macaroni salad fit perfectly, but I had extra dirt cake that I left behind for us later. Printable versions of these recipes are below.
Deluxe Macaroni Salad Recipe
Dirt Cake Recipe
Enjoy these tasty summer dishes!  I am off to enjoy this weekend!
Missie S.