The days are getting shorter.  This morning when my family left our home it was not very light out yet.  While I was finishing getting ready for the day, I noticed quite a beautiful sunrise.  For once I had the notion to photograph a sunrise!
We bought a NICE camera in June before we went on vacation and I have been working with it to produce good pictures.  It takes WAY better pictures than the camera on my phone (which I had been using for everything).  I photographed the sunrise with the new camera.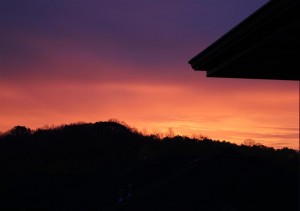 As I said on Monday, I am trying to take time each day to practice sketching.  I practiced yesterday and was going to post my sketch, but time got away from me.  The tea pot sketch below is from yesterday, Tuesday, Oct 16, 2012.  I will practice again later and post the outcome.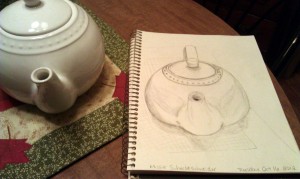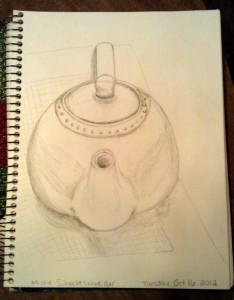 Off to work I go!
Missie