This morning we got our grocery shopping done early, and by early I mean we were home before 11AM.  I HATE grocery shopping.  I always try to get it done before the weekend so i don't have to waste my valuable free time at the grocery store.  By the time we hit the checkout at the second (and last) store the baby was whining on the outside and I was groaning on the inside.
While we were at the store I was taking in all the Valentine hints and decorations placed in the aisles.  Of course my little girl was just tickled about the scores of balloons bobbing and swaying in the deli section.  When we got to the checkout area we were just smacked with pure Valentine's Day merchandise: chocolate, cards, candy, buckets of flowers, and I mean FLOWERS everywhere!  I am by no means any sort of romantic and I don't care one way or another about Valentine's Day, but this display was beautiful and it smelled like spring!  In the dead of winter when the high for the day is supposed to reach 17, it was actually very nice to get out to the grocery store and smell flowers today.  I would have really liked to snap a picture to share with you, but my hands were tied up with baby hands.
Creative Update:
I am not working on giggleFritz and Company as a business right now.  Having a baby and being a Stay At Home Mom has taken most of my time, energy, and motivation to create.  I have been slowly getting back into crafting and making things, but nothing is for sale in the shop right now.  I have been experimenting with paper crafts and book making and I am working on a counted cross stitch piece.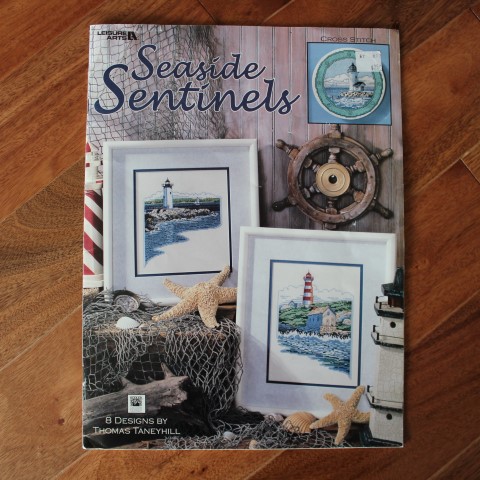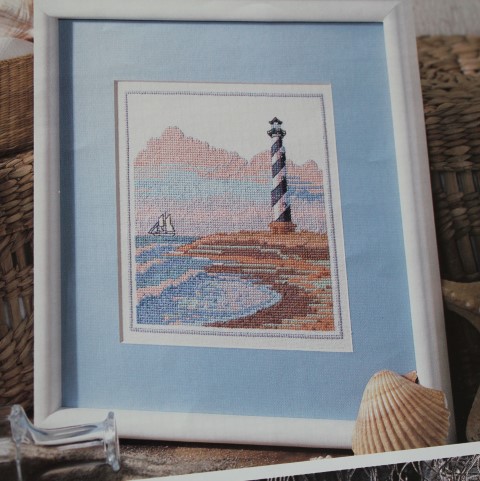 I have always loved lighthouses, and I bought this booklet years ago.  I started one of the patterns and never finished it.  I decided to start over and I have been working on this project for the last few weeks.  I usually do a few rows at night when I am watching television with my husband.
I am off to do mommy things now, and I am looking forward to a wonderful (and chilly!) Valentine's weekend!
Have a Happy Valentine's Day!
Missie