Happy July 1st everyone!  Nothing monumental happened today, but at least the weather was truly beautiful.  If every day had weather like today, my attitude would be significantly more cheerful.
I started a new sock monkey today and am determined to finish it in less than a week this time.  I finished a Socktopus this morning and it is posted in the giggleFritz shop and Etsy Shop.  That Socktopus should have been for sale last week, but I did not make myself sew on the last leg and apply his face.  Well, done, done, done.  It's time to get hoppin'!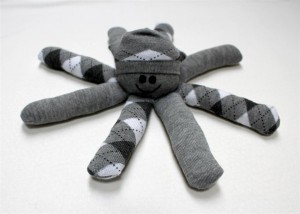 Last week I sent in my registration papers for this year's Coffee Break Fest craft fair in Stoughton, Wisconsin.  It is my favorite craft fair of the year!  I am a little bummed I won't be able to sample the coffee in the contest this year (no caffeine, Prego Girl!!).  I love the people and the car show and hope it's a great Festival this year.  Oh, and no rain!
I am off to catch the rest of the Milwaukee Brewer's game and some Duck Dynasty with my husband.
Enjoy the rest of your July 1st! 😀
Missie