Yesterday, I had to pick up my daughter from school, she was not feeling well.  She spent a good deal of time sleeping and trying to feel better.  It was actually a good day to be home sick.  It rained all day long and became cold – perfectly normal weather for Wisconsin in May (heavy sarcasm here).  It was a perfect day for homemade chicken soup.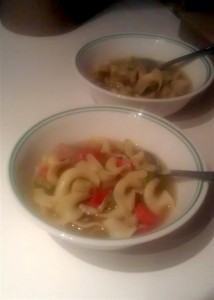 I've been doing more cooking in the past two weeks and it feels great.  It is good to get back to smelling fresh, cut up vegetables and herbs.  The morning sickness was so bad my spice cabinet made me want to retch.  How sad was that!  Back to making soup.  So, I found some frozen vegetable broth and cooked chicken in my freezer, cut up some fresh carrots, celery, and onion, and pulled out some simple herbs and made soup.  Oh, did it smell magical!  The mixed smell of simmering oregano, pepper, chicken, and vegetables made me feel so alive, yet calm.  I was hoping the aroma would help make my daughter a little more cheery too.  Some warm soup, grilled cheese, and an old movie after lunch contributed to a peaceful nap taken by both mom and daughter.  I love it when simple things remedy crappy days and tired souls.
Here is the chicken soup recipe I use:
Homemade Chicken Soup
Prep Time: 25 min                            Cook Time: 34 min
Ingredients:
32oz (4cups) chicken broth
2 cups water
1 medium carrot, peeled and diced
1 medium rib celery, diced
1 medium onion, cut into thin wedges
1 tsp dried majoram, or oregano
1 bay leaf (I don't use)
¼ tsp pepper (or less)
2 cups cooked chicken or turkey, chopped
1 cup flat noodles, or noodles of choice
2 Tbsp fresh parsley, or 1 Tbsp dried parsley
1. In a large sauce pan, combine chicken broth, water, carrot, celery, onion, marjoram, bay leaf, and pepper.  Bring to a boil. Reduce heat; cover and simmer 10 minutes.
2. Increase heat to medium-high; return to a boil.  Add chicken or turkey, noodles, and parsley.  Return to a boil.  Reduce heat to medium.  Cook, loosely covered, 15-20 minutes or until noodles are tender.  Remove and discard bay leaf.
Click here to print or save recipe: Homemade Chicken Soup – Printable
Have a wonderful day!
Missie