My family and I have been working hard on getting our condo ready for sale.  My daughter and I cleaned window sills and ceiling fans last Thursday.  I have been detailing certain areas like my kitchen sink and base boards.  I am highly motivated to tackle any little thing that can make a difference in selling our condo.
My Studio is mostly packed up and my husband's office is now occupying part of my space.  It has all worked out nicely so far.  I don't do a very good job of finishing organizing things when I start them.  My workspace was in a large space and I was only using about one-third of the space.  So, having my husband move his office into my workspace was really not a big deal.  We did all that moving yesterday.  Up and down the stairs, dusting, vacuuming, and cleaning in general.  I was ready for bed around 8PM.
We had to move my husband's office up into the loft (my studio), so we could move the living room furniture out for new carpeting.  When we moved in 4-5 years ago, we really liked our condo.  We noticed the carpeting wasn't perfect, but thought a good carpet cleaning would make a difference.  It did not.  The last owner had dogs, dogs that affected the carpet.  She probably had the carpets cleaned after she moved out.   As we lived in our condo, we added our own spills and stains to the carpet, and the stains of the last owner came up through the carpet as well.  We decided to go the whole nine yards and just replace the gross carpet.
After moving the office furniture out of the old room, it was time to go purchase new carpeting.  We took a sample of the old stuff with us, because we have to match it up with bed room and stairs carpeting that will not be replaced.  We came pretty close on the match-up and think it will blend in nicely.  We were also told, if the pet stains were bad enough and soaked into the carpet pad, they would come up through the new carpeting.  We will need to replace the carpet pad and shellac underneath to seal away the urine stains.
Today, we moved all of the living room furniture into the old office room.  We went to Menard's to purchase the best rated shellac – B-I-N® Shellac-base primer by Rust-oleum.  We purchased it on sale for about $36.00/gallon.
When we arrived home, neighbors warned us of a special visitor close to our front door: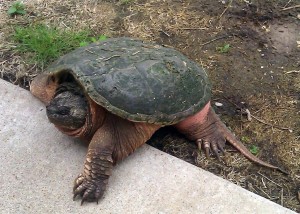 A female snapping turtle comes to lay her eggs in our mulch every year, we were told.  We were all amazed.  I had never been so close to a turtle before!  It was fabulous!
My husband wanted to get right at shellacing the floor.  He cut long strips in sections of the room.  When he rolled up the carpeting it was disgusting!  You could see the brown stains that soaked through to the bottom.  I have read before how carpeting is not a healthy flooring option because of the chemicals and the bacteria it traps.  This was a first-hand look at our germy carpeting.  New house must have little to no carpeting, or we will remove it.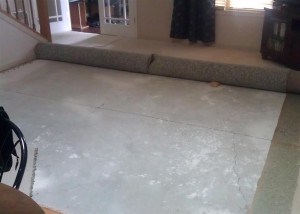 All this hard work has been motivating me to get back to work on giggleFritz creations.  This morning, while waiting for my sister to pick me and my daughter up for the Farmer's Market, I got to work on some new Socktopus guys.  I plugged in my sewing machine, got out some socks, scissors, and stuffing and got to work.  I hope to have some guys in the giggleFritz Shop and Etsy Shop soon.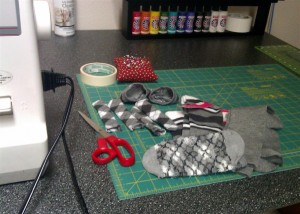 Now it is time for a well-deserved cook out with a bonfire and s'mores!
Have a great weekend!
Missie 😀