Let's play catch up!
Last Sunday my sister and I ran our first 5K of the year, Silver Lining Boys & Girls Club 5K for Kids.  We ran the whole thing, without walking, in 36min 23sec.  That isn't a competitive time, but our main goal was to run the whole thing without walking.  We met our goal and are very happy with that!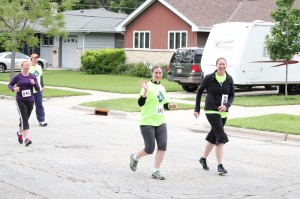 Last Thursday we were at the doctor's office and had ultrasound pictures done.  We are expecting a girl!  We are very excited and it was so emotional to see all of the pictures of the tiny baby!  She is a silly wiggler baby and we cannot wait to see her in October!
My husband and I have also decided to try and sell our condo so we can buy a house.  We need more room, and even if we don't sell this year, we need some home improvements anyway.  So, we will be painting, cleaning and replacing carpets, and moving things around.  Not much has been getting done here at giggleFritz and Co. and now I fear even less will be created.  But, it is a short-term break while my family and I handle some important changes.
I am supposed to be cleaning and packing up my work space/studio as I type.  So, I am off to keep that happening.  The sooner we get done, the sooner I can create some more neat stuff!
Have an awesome Monday! 😀
Missie