I used to read a lot.  There was no better escape from my crappy jobs than an exciting adventure with a thrilling ending.  Fantasy novels (NOT romance, mind you!) were my favorite, then, historical fiction.  Ever since I have been working solely for giggleFritz and Company, I have not taken much time for reading.
I borrowed two books from one of my sisters and it took me forever to read them.  They are part of a three book series by Ally Condi.  The first was called "Matched".  The second one, "Crossed", I just finished.  I want to read the third and final "Reached".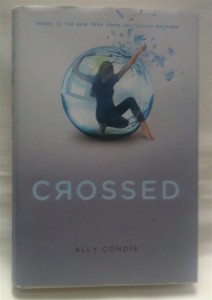 It was a little hard to want to read these books.  They are well-written, but in some ways, at first, they are similar to "The Hunger Games".  The books are about a teenage girl who lives in the future.  Where she lives, everyone's world is controlled by the government, which is called "The Society".  After a few chapters the book ends up being less like "The Hunger Games", and the ideas are more unique and interesting.  She goes on her own brutal adventure to find someone she loves and learns more disturbing things about, "The Society".
I looked into the "Books and Coffee" book club through Dunn Bros. Coffee.  I won't be joining.  It is a great idea, but I looked online at the book selection.  It isn't very large right now, and the books are $14 and up.  This frugal coffee/book-loving girl doesn't like the price.  I can brew my own coffee and head for the library.
Happy Reading! 😀
Missie