I was out shopping yesterday.  I had to run a few errands and I stopped at Hobby Lobby to look at their $0.99 McCall's patterns.  I was looking for a pattern for maternity clothes.  I didn't find any patterns for the clothes, so I went to look at paper punches that were on sale for 40% off.  I have been making my own tags for craft shows, but I thought it would be less time consuming and look nicer on my products if I would use a paper punch.  I looked a long time, compared prices, bought my paper puncher and went home.
I didn't have enough time yesterday to use my new paper puncher.  This morning I started to rip open the package and try out the new puncher to make some tags.  As I was pulling the plastic carton away from the cardboard, I noticed a warning at the bottom of the package stating the punch contains lead and can lead to reproductive problems and birth defects.  Well that is just great!  Here I am 15 weeks pregnant and I just purchased a product that could kill or deform my baby, wonderful!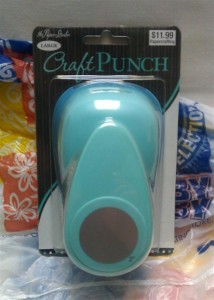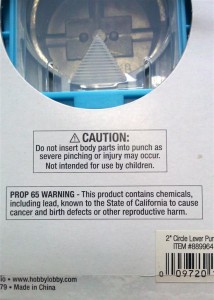 Needless to say, I am mad.  Many people buy these punches to make photo albums and birthday cards.  Are you supposed to wear gloves when using this thing?  Lead can still be transferred to the final product.  I am grateful that someone made The Paper Studio add that warning, but why are we manufacturing these types of products with lead, products that are harmful to ourselves and our kids?  I am fed up with this cheap China crap!  It makes me wonder what else in my house is laden with lead and other chemicals.
Paper puncher is going back to Hobby Lobby.  I have washed my hands thoroughly of lead.  There is no lead poisoning fun!
On to safer projects!
Have a great day! 😀
Missie