There are days when I am scrolling through my newsfeed on Facebook, and don't look twice at the recipes and food pictures that people share.  Especially when I had morning sickness, those pictures made me green.   Recently, I have been taking notice.
I plan my family's meals two weeks at a time.  When I make up the grocery list, I use a calendar I print off of the internet from this site: http://www.printfree.com/Calendars.htm  I don't go grocery shopping until the next two weeks of meals are planned, and I have all of the ingredients I need on the shopping list.  I save those calendars so that when I go blank on what I should make for the next few weeks, I can look back at things I've made.  My menu planning has become boring and lame!  I have been in desperate need of new recipes!
I made a recipe last night for dinner called, "Sweet Baby Ray's Crock Pot Chicken", from the Facebook page of Dail Stuart.  It caught my attention because my husband and daughter love BBQ chicken and I am always looking for easy crock pot recipes.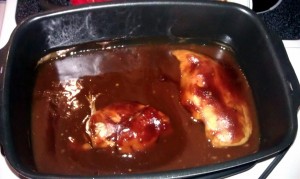 Sweet Baby Ray's Crock Pot Chicken
4-6 boneless, skinless chicken breasts
1 bottle Sweet Baby Ray's BBQ sauce – Lrg for 4-5 qt crock pot
¼ cup vinegar
1 tsp red pepper flakes
¼ cup brown sugar
1 tsp garlic powder
 Mix together everything but the chicken.
Place chicken in a 4-5 quart crock pot.
Pour sauce mixture over the chicken.
Cook on low 4-6 hours.
When I made this, I used three thawed chicken breasts in a West Bend brand 4-qt crock pot for 4 hours and it turned out wonderfully.  I didn't serve these as bbq'd chicken breasts, however.  I shredded the chicken and added it back to the bbq sauce.  I served up shredded bbq chicken sandwiches.  The family loved them!  They were moist and tangy with some heat!  (If you don't want the heat, leave out the crushed red pepper flakes.)
For a printable version of the recipe, click here: Pulled Chicken Recipe – Printable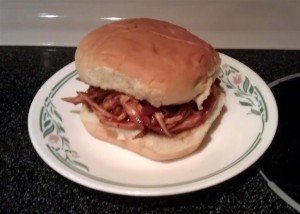 I am so glad I found this recipe!  I have made pulled chicken before and it didn't turn out very well.  This was very easy and turned out great!  I wonder what I will add to my recipe collection next!
Have a great weekend!
Missie