As I said in my last post, I was going to have to dig out my binders and get planning.  I found the binders, they weren't really buried.  I took a brief look and then got distracted with other mommy-type things.  No problem, I don't get too worked up about things these days.  It just doesn't pay.  While my little one works on her little steps, I have to work on mine.
This week I made some progress.  We have a spare room in our house that has this very loud green color.  When we moved in last August my older daughter took that room and decided to keep the green.  She is no longer living in the room so we have been waiting for some time to give it a makeover. We have been adding a sub-floor to the rest of our ranch-style home and this spare room needed the sub-floor and some new carpeting.  Two weekends ago, my husband added the sub-floor, this last week I painted the room and today we went and picked out the new carpeting.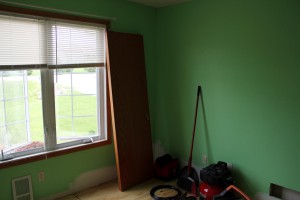 I am so happy about getting this room done! I used to hate looking at the green when I looked into that room.  (I could not capture the real hue of green in the picture above, but it is very GREEN!) My husband and I decided I will be using this room for an office/crafting room. I think it will help to have my own little space.  No more digging for binders!
I am also very excited about our brand new vegetable garden!  My husband worked up our new garden plot today.  We are cutting it close, but our spring has been a chilly one this year with a few of the last nights having frost.   My tomato, pepper, marigold and pumpkin plants are ready to be planted this weekend.  With prayers and some good weather we should have some fresh veggies within the next few months.
It's been a great start to summer so far.  We have to keep it moving!
Have a Happy Memorial Day Weekend!
Missie 😀