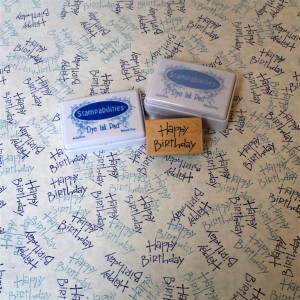 We have so many Fall birthdays in my family!  I have been collecting gifts and gift cards for the past couple of weeks, trying to get everything done before baby arrives.  I asked my husband, "What do you want for your birthday?"  Of course I got, "nothing, I don't need anything." Boo!!  So, I kept my husband's gift simple.  I made his main gift.  (I won't tell you or show you just in case he actually reads my blog!)  I am adding a few of his favorite eats to this gift box.  I hope he likes it anyway!
Once I started making my husbands birthday gift, more ideas came to me.  I decided to also make his gift wrapping paper.  I dug out some ink pads and my "Happy Birthday" stamp and got to work.  I still have a nice big roll of white paper from the gift wrap section of Hobby Lobby.  It isn't glossy, so when you stamp, the ink is absorbed.  I stamped that paper like a boss!!  I like the two shades of blue together.  Simple, easy, fun!  That's about all I can manage right now!
Have a wonderful Wednesday and make something fun!
Missie