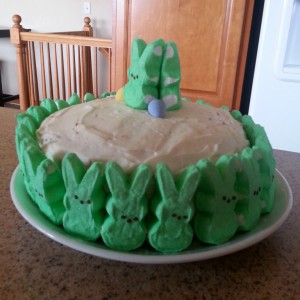 Here it is: My Easter Peep Cake! Sweet, very simple, inspired by others on Pinterest.   I baked a banana cake from scratch, which tasted ok.  I made the cake part about a week early to save some time for other food prep the day before Easter.  I pulled out the frozen cake layers from the freezer the day before Easter to thaw. Homemade cream cheese frosting was whipped up three days before Easter, and the cake was frosted Easter morning.  I used nearly two boxes of green bunny Peeps and three Cadbury milk chocolate mini eggs for a little decoration.
There really is a difference between a homemade and a box mix cake.  My homemade cake was a much denser cake and I think that effected the flavor as well.  You can use a box mix and a can of frosting if you wish.  I went with the homemade cake because I felt like making something with bananas for my husband.  Anyway, I like Peeps and I enjoyed making this cake.
Tomorrow, I am attending a spring craft fair, Spring Fair to Remember in West Bend, WI.  I have had a booth at these shows a few times.  I am excited to see both what and who is new and how the seasoned craft fair vendors are doing.  I always keep an eye out for both crafting ideas and booth set up and display ideas as well.  I am not planning on participating in a craft fair anytime soon, but it never hurts to have a few ideas handy for later.
Have a beautiful weekend!
Missie